AroundGames – Lamia's Exile v0.1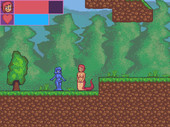 Lamia's Exile is a hentai platformer, in which you control a Lamia Girl, and explore 2D maps fighting (and fucking) other Monster Girls along the way.
Have you seen RePure Aria? This game is heavily inspired by it.
Controls: Arrow Keys for Movement, Z to shoot, X to Masturbate, and C to tease enemies.
The current version is very basic in general, featuring about 5 short maps, 2 types of enemies, and a sneak peek of the first boss.
Some easter-eggs and non-hostile NPC are scattered around the map.
Future versions will flesh out gameplay, UI, and audio as well.
Size: 55 megabytes
Page: